How to choose a loft net?
You want a catamaran net for an interior or exterior decoration project but do not know how to choose or how to compare them? Material, mesh size, shape, color… Here are some tips to make the right choice. Our team is at your disposal for any question and for a personalized study of your project.
The catamaran net is  made of high quality textile fiber, originally designed for multihull sailboats: catamarans.
You can find it on pleasure boats or on very technical catamarans used specifically for regattas (races and competitions).
Corderie Gautier has specialized in the creation of catamaran nets for more than 20 years, and has been equipping sailboats (pleasure, regattas, nautical clubs) and homes.
In fact, this net gives several ideas on how to arrange and decorate your home and garden.
Why choose

a catamaran net from Corderie Gautier?
Our experience and our know-how allows us to design house nets made to measure that respond to your taste and your needs.
To satisfy our customers, guarantee their safety and offer them a really personalized product, we offer support from A to Z of their project, and only offer top of the range nets that are completely personalized: comfortable, safe and durable.
How much

does a catamaran net cost?
Each project is personalized, so its price depends on several conditions: shape, color, dimensions, whether the fixations are supplied or not…
Our goal is to offer you a product that will give you complete satisfaction: this is why we do not sell prefabricated products, with dimensions that are already defined.
The price of a custom made net starts from 45€/m2.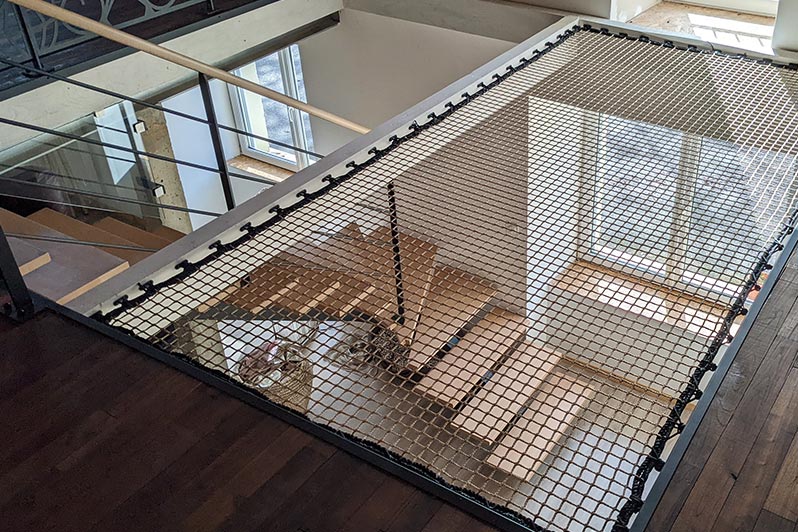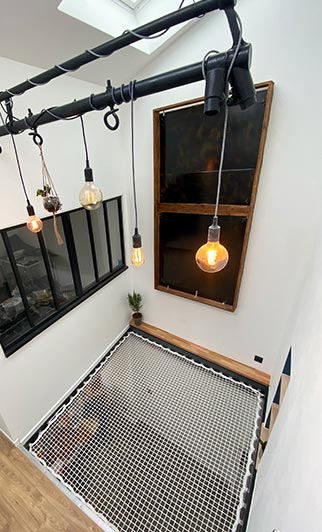 What

use can you give to the net?
Here are some of the main usages of a house net:
Loft net
Safety/guardrail net
Outdoor relaxation net (sunbathing, terrace etc)
Placed horizontally, the loft net will fill a void and will allow you to take advantage of this space while letting the light pass through.
Ideal for apartments, houses with a room that has a high ceiling, for a mezzanine or to optimize the staircase opening.
Outside it becomes a big suspended terrace or a relaxation corner in the garden.
Placed vertically, the net becomes a safety net to protect the borders of terraces, balconies or even a staircase. A real protection against falls, it protects people as well as your pets.
A residential net from Corderie Gautier can be installed indoors as well as outdoors.
It is made of rot-proof textile fiber, so it does not mold when in contact with water. It can remain under the rain and it does not need to be protected from the weather in winter.
The stringing is also treated against UV, to better resist sunlight.
How much weight

can the net support?
Our catamaran nets can withstand up to 700kg/m2.
This resistance has been tested and it is certified by a control entity.
It is important to specify that to this day, there is no French standard for house nets, contrary to safety nets or fall protection nets, which are mostly used on construction sites and in the construction industry.
The design and usage of these products also differ.
At home, the catamaran net is designed for a long term use.
The design of the net alone cannot guarantee the safety of people: the way it is fixed and the installation technique used are crucial here.
This is why we have developed our own installation technique, based on our more than 20 years of experience in the field.
How to choose

the right material?
You can find house nets made of several materials and made through several processes.
Our catamaran nets are mostly made of polyamide fiber.
This synthetic textile fiber has many advantages:
It is rot resistant
It is anti-UV treated
It is more resistant than other fibers (polyester, polypropylene)
It remains firm.
Does the net

loosen up or lose its tightness?
No, a high quality and well installed net will not loosen or become saggy shortly after having been installed.
Of course, over the years, the stringing will eventually lose its tightness and loosen up.
If it is completely loose, which means that it no longer comes back to its original position and it forms a "sag", then it is time to change it.
But that will happen after several years, most of the time more than 10 years.
Properly installed, our catamaran nets will remain in place and won't become loose after a few weeks or months.
Choosing the right

size of net?
The choice of the net size is decisive depending on the use that you will give to the catamaran net.
Loft net
Placed horizontally, it can become a loft net on which you can walk or lie down. For optimal comfort and for the safety of everybody, including young children, we only recommend mesh of the following sizes:
These tight meshes form a more even and pleasant floor for the skin, and prevent children from getting a leg stuck on the net.
Safety and peace of mind are guaranteed for the whole family.
With a 13 or 30 mm mesh, even children's toys will not go through the net.
The density of the stringing makes the whole net more comfortable.
In addition, the peripheral fixation further enhances the safety: there is no gap between the support and the net. So, a child can not get a leg stuck on it.
It is truly a house net suitable for everyday life.
Guardrail net
Placed vertically, it becomes a guardrail net for a loft, a balcony, a terrace or a staircase.
It has to let the light through and prevent falls, but in this case it does not have to prevent a foot from slipping through the mesh when walking on it for example.
 It is therefore possible to use larger meshes, for more brightness:
Other mesh sizes can be used according to your project.
You can find knotted woven nets on the market, to use as guardrail or even mezzanine nets.
Even if they are still resistant and have the advantage of being less expensive, they are also less aesthetic and especially much less comfortable.
When you install a loft net and that you walk on it barefoot, or that you lie down on it to read or to take a nap, the slightest knot can exert pressure on the skin, which can be really annoying and unpleasant.
Even more if you plan to install it for children: children have very sensible skin and will not be comfortable.
Our horizontal catamaran nets are all made of knotless woven mesh, for optimal comfort.
The stringing feels very comfortable against the skin, even for young children who can walk or lie on it.
To use as a guardrail net, it is possible to use knotted mesh, which is just as resistant and less expensive.
With or without

bolt rope?
All our house nets are equipped with an overlock:  it is a peripheral stringing that holds the whole thing together.
We always add a bolt rope to the loft nets: a second rope all around, that will make the installation easier and will protect the overlock during the installation.
For guardrail nets, the bolt rope is optional. It is useful if your guardrail net has large dimensions and that you want to protect the overlock during its installation.
How long

will the net last?
There are several factors that will impact the lifespan of your net.
In good conditions, we have reviews from customers with house nets that are still perfectly in place after 10 years. But this can vary.
The weather
Even if our nets are all water resistant and UV treated, they can be affected by extreme weather conditions.
The more your net is exposed to bad weather conditions (hail, frost, salty air etc) or to the sunlight ( in the South of France or the departments overseas)  the faster it will wear out.
The Installation
The quality of the installation of the net is very important!
The distribution of the load, the string tension, protecting the material against sharp edges.
A net badly installed, badly stretched or badly fixed will last less.
Daily use
The house net is a resistant product but requires some usage precautions.
It is strongly advised not to clean it with household products, solvents or other chemical products that could damage the stringing. It is better to use a simple cloth, moistened if necessary. You can also clean it with soapy water.
It is not a trampoline: you can walk and lie on it, even several people at once, but you should not try to jump or bounce on it.
This daily care will make your net last longer and it will prevent it from becoming fragile.
Are you still

hesitating?
Don't worry!
It is our job to accompany you and advise you, to offer you a solution that will really meet your needs and desires.
Contact us for a free and personalized quote.