Hammock floor

and suspended net
Highly resistant and custom made indoor net for your loft.
We have been designing catamaran nets for more than 20 years and we are constantly developing techniques to offer you high quality products.
A loft net made by Corderie Gautier is:
An interior decoration item, the loft net allows you to create atypical living spaces, to play with volumes and light.
Created from a catamaran net, it can be used in your house or loft to decorate it according to your taste.
Highly customizable, it can take different shapes to fill an empty space or create a loft: squared, triangular, rounded, hexagonal…
Small in size, it can be an open space in the floor to let the light through.
Large in size, it can be a suspended mesh floor.
Indoors, the loft net is protected from UV and bad weather: it is therefore possible to dye it as you wish. White, black, red or blue… or peacock blue, taupe, cherry red… Our palette of colors is very wide.
With a sample, we can get as close as possible to the desired color, for a really unique interior decoration.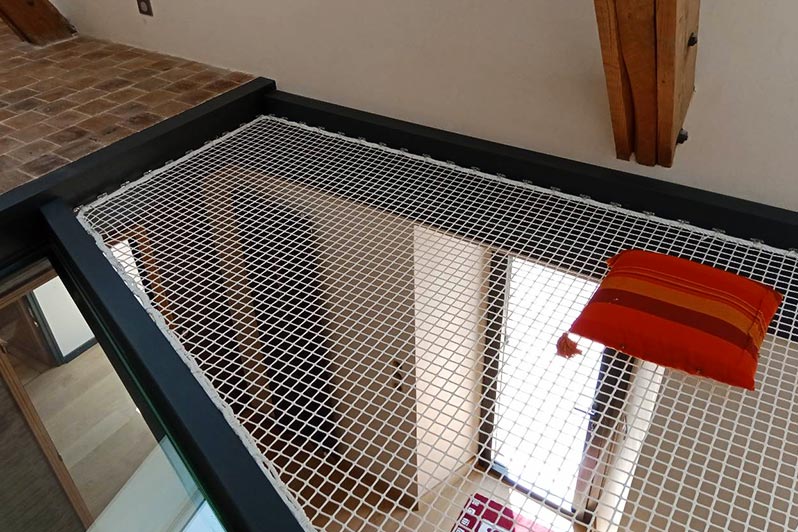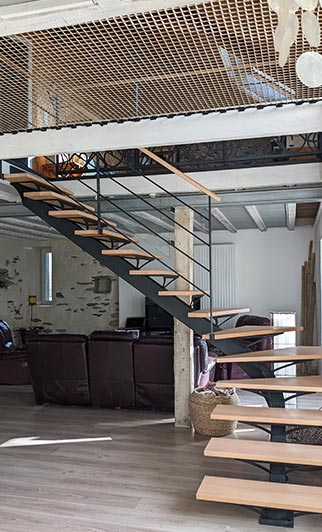 Create a relaxing and peaceful corner in your house or apartment with this highly comfortable and pleasant to the touch loft net.
Made of 13 to 30 mm knotless woven mesh, this house net provides you with exceptional comfort. The knotless mesh will not exert any pressure under the soles of your feet, or on the skin when you lie on it.
The small, tight mesh allows children to walk on it, without the risk of getting a foot stuck on the mesh. And they are spaced enough to let the light through.
Children and adults alike will love to use it to rest, read or take a nap.
Like a suspended floor
Solidly fixed and stretched, it remains very firm. It is a real suspended floor in the house.
Even when used by an adult, it does not loosen or becomes saggy.
Forget about these soft nets, in which you sink with each movement and can not get up easily.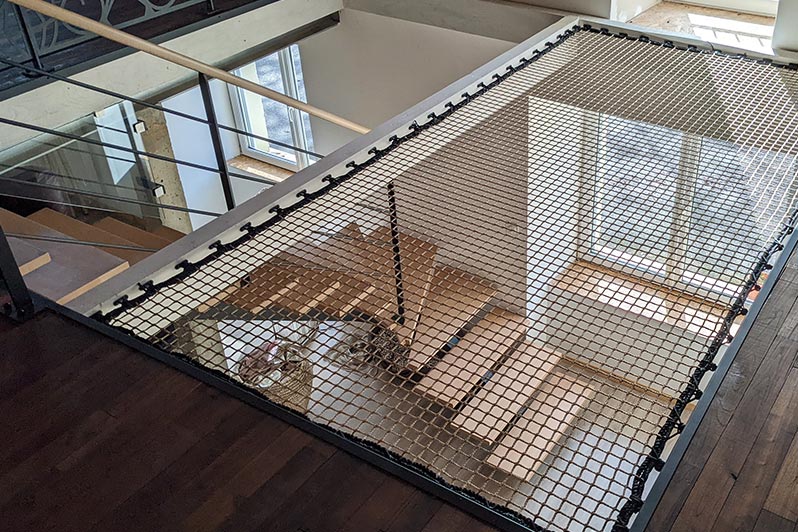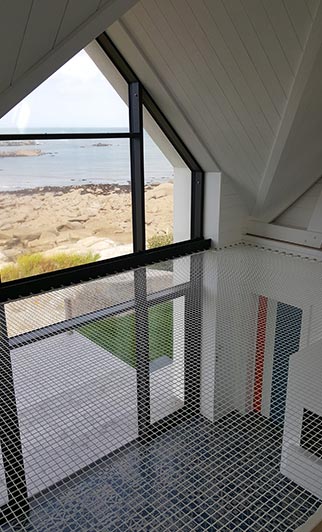 Safety

for the whole family
Being suspended in a void in the house or in a loft requires extra security. Your house net will protect your whole family against falls.
Demand uncompromising security.
Resistant to +700kg/m2
Our nets have been tested and certified by an independent inspection entity.
Resistance to 700 kg/m2 guaranteed!
The weight of an adult will not cause the catamaran net to loosen up, and your children will be able to sleep and play in it in complete safety.
Point by point fixation
Thanks to small resistant strings for the threading, the net is attached at approximately every 15 cm at each fixation point.
Forget about zig-zag installations, strings that are not properly tightened up. Based on our decades of experience and for optimal safety, we recommend only using one installation technique.

High resistance
with 700 KG / m2

High safety through
point by point fixation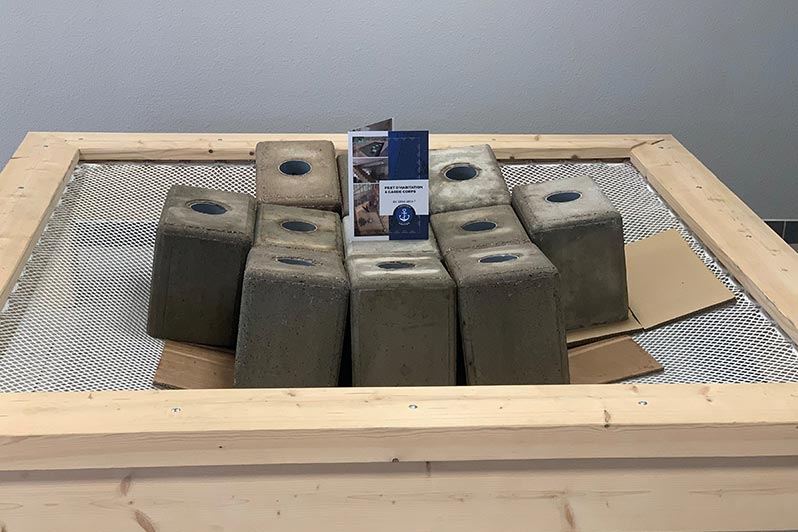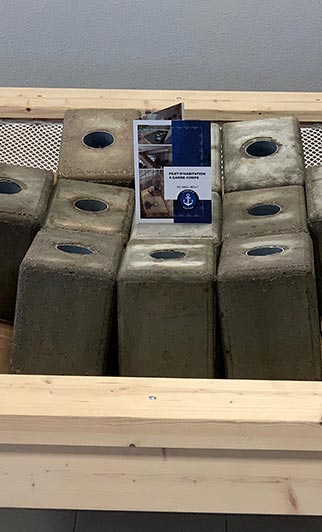 No gaps
The net is fixed and held firmly in place thanks to the fixations (trigger guard, eyebolt etc ). Thus, there is no gap between the structure (a beam for example) and the net.
This is to prevent a child from sticking a foot or leg on it and risking an injury. An additional guarantee of peace of mind for the parents.
Reinforcing overlock and bolt rope
In order to make the installation of the net easier and to make it even more solid, an overlock and bolt rope are sewn all around it in order to reinforce the whole structure.
They are thicker and more resistant ropes.
For the fixing and installation of your loft net, we recommend you to use the most suitable fixing accessories.
Resistant stainless steel eye bolts or trigger guards, polyester stringing for the threading of the net and point by point fixation.
We have a wide stock of all the accessories required to fix our nets.
Our team will advise you and support you on the installation technique, at each step of your project.
Choose a stable and lasting product, with an exceptional longevity.
The tension of your loft net remains constant: it does not loosen or deforms.
Not after some days or even months.
Our installation technique, based on our more than 20 years of experience, will guarantee you a durable product that will remain in place for many years.
Our know-how

and expertise
Corderie Gautier has been designing catamaran nets in France for more than 20 years.
Our team will support you at each step of your project.
From the design to its installation, we assure you a personalized follow up and we will support you to guarantee your complete satisfaction.
Choose the best for your home.