How much does a loft net cost?
Do you want to install a loft or a guardrail net? There are several factors that will affect the price…Quality, shape, color.
Personalized

catamaran net
Corderie Gautier has been designing catamaran nets for sailboats and homes, for more than 20 years.
All our nets are made to measure to really adapt to your taste, your layout and your needs.
Nothing is prepared in advance and stored in a warehouse: each project is unique and carefully planned in our workshop.
In order to do our job correctly, we always discuss with our customers, to know about their project in detail. That is why one of our experts will contact you by email or phone, and will advise you at each stage of your project.
To guarantee you a high quality job.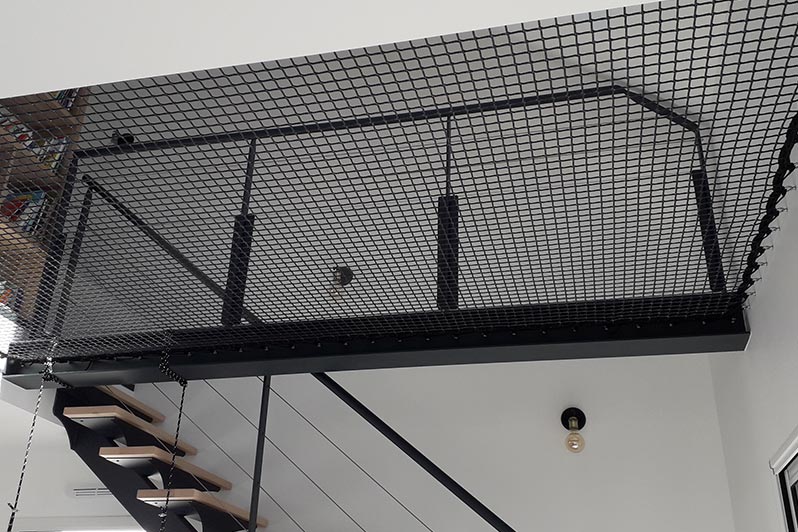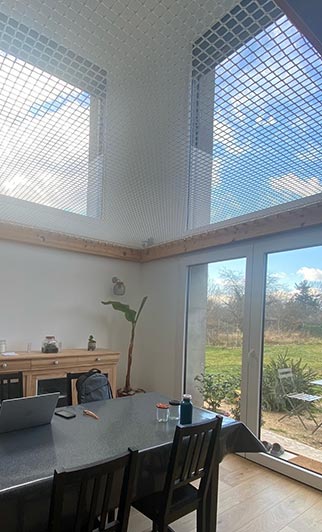 Several materials can be used to fabricate an indoor or outdoor net.
A synthetic textile fiber will always be used.
Among the textile fibers used, we find;
Polyester
Polypropylene
Polyamide
Just as with a rope used on a boat to control the sails, two ropes made of the same material can have a different quality: this could be due to the manufacturing method, treatments, number of spindles, sheath and core of the rope…It can become very technical.
What you have to know is whether your net will last over time!
For example, a net made entirely out of polyester will cost you less but will have the tendency to come loose easily and quickly, which will require you to change it several times.
On the other hand, a catamaran net from Corderie Gautier is a high quality product, designed to last. It is water and UV resistant, it can withstand heavy loads (700 kg/m2) and remain firm over the years.
As with any product, there are different qualities.
At Corderie Gautier, we only offer catamaran nets of high quality.
For a loft net, we only offer nets with knotless woven mesh and small mesh dimensions.
This way, you will get maximal comfort with a dense net that will support your body evenly.
This is a design choice, of course it is more expensive than knotted mesh, but it is worth it, in order to offer our customers more comfort.
The nets with knotted mesh can be uncomfortable when you walk on them or lie on them: each knot will exert pressure on your feet or skin.
For guardrail nets, you can choose between knotless woven mesh or knotted mesh.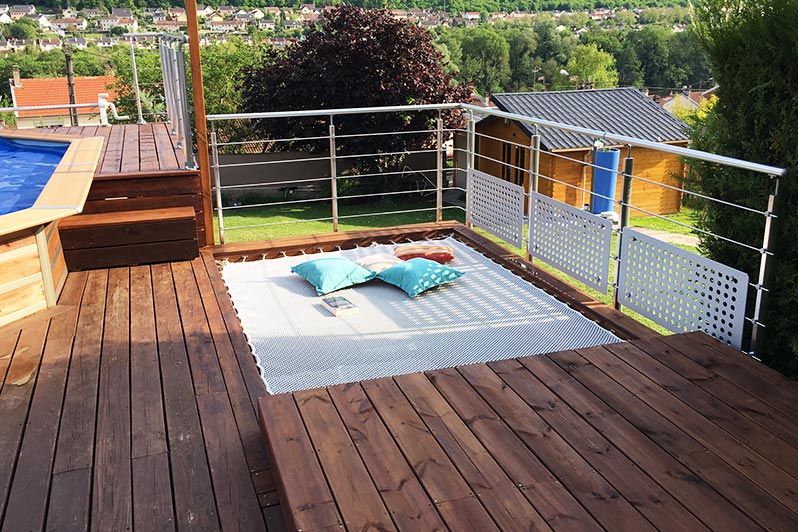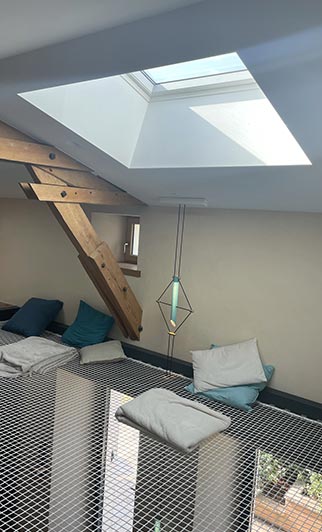 The simplest shapes to make are squared and rectangular, and that corresponds to most cases.
But it is also possible to make a house net with a personalized shape: triangular, trapezoidal, quadrilateral, rounded… A complex shape implies more time to produce and therefore a slightly  higher price.
The exact measurements and the design have to be carefully planned: because once the net has been fabricated and is already out of the workshop, it is impossible to cut the net or add parts to it.
Most catamaran nets that we design are black or white.
These two colors are suitable for both indoor or outdoor use.
If you are going to install the net in the house, it is also possible to dye it:  we have a very wide range of colors to choose from.
Are plain green, red, blue or gray too basic for you?
We can go further and really personalize the color of your net.
This know-how is very appreciated by architects and interior decorators, who can create a harmonious design.
Choosing a color, other than black or white, is an option that will increase the cost of the product.
The installation of your catamaran net is a crucial step to guarantee complete safety to the whole family, and prolong the life of the product.
To do this, you will need good fixations suitable for the installation of nets and for the place where it is going to be installed. For outdoor use in particular, you should use A2 or A4 stainless steel fixations, which are highly resistant to corrosion.
This will increase the price of the net.
We recommend you attach the net every 15 cm and on all sides.
This way, you can calculate the number and the price of your fixations.
How much does a high quality catamaran net cost?
For a guardrail net with knotted mesh, it could cost from 25€/m2.
For a shape that is easy to make and a basic color (black or white), it could cost from around 45€ to 50€/m.
A net with a complex shape and a personalized color will be more expensive, but it will be completely adapted to your taste and it will be unique.