Outdoor nets

for the garden
House nets for terraces or gardens: outdoor accommodations and safety nets.
Coming from the nautical industry, the catamaran net has been designed to resist UV rays, bad weather and the aggression of salt for many years. In your garden, it will resist rain and sunlight.
It can be used outdoors to create a suspended terrace or a relaxation area in the garden.
Create an outdoor relaxation space and decorate your terrace. Ideal to take a good sunbath, read or relax comfortably in your garden.
With its knotless woven mesh, the outdoor net is very comfortable and its contact with the skin is pleasant.
Our house nets are of high quality and can withstand a weight of +700kg/m2.
Adults can lie down on it safely. The resistance of our nets have been tested and certified by an independent entity.
For a hotel or a vacation rental, this is an outdoor accommodation that will make your customers happy.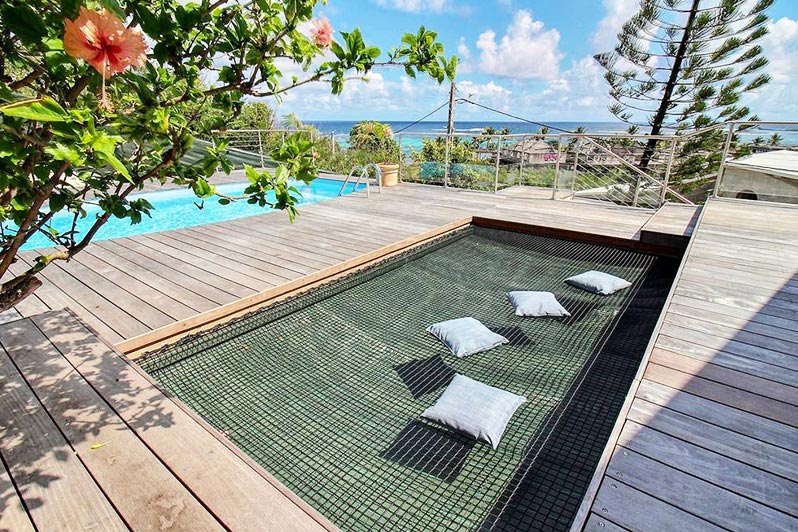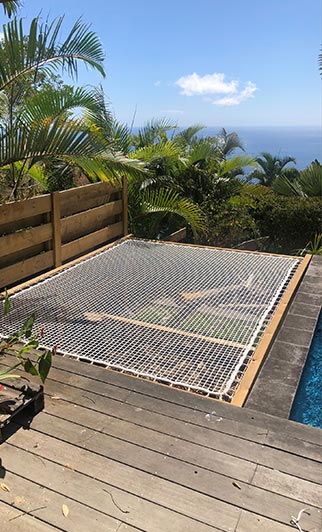 Effective protection against falls for people and animals, the outdoor net can also be installed vertically.
Solidly fixed all around, it provides real protection for a balcony, the edges of a suspended terrace or even a staircase.
Attached to the fixations and tied point by point, which will give you security and peace of mind. People and pets will not risk falling.

High resistance
with 700 KG / m2

High safety through
point by point fixation
Fun and safety for the kids
Imagine a tree house or a wooden fort in your garden.
Placed horizontally, the outdoor net becomes a safe and resistant platform, a real playground for the kids. The 13 or 30 mm meshes will let the light pass through and will allow the water to run off in case of rain.
Placed vertically, it will secure the borders of a tree house or allow you to create a suspended bridge and it will be an excellent protection against falls.

Bring your ideas to life and imagine a unique design for your exterior.
We design each outdoor net to measure.
The shape is completely customizable with a large number of possibilities: square, trapezoid, rounded.
At Corderie Gautier, we have specialized in the design of house and catamaran nets for over 20 years.
Our team will support you to create your project until the installation of your net.