Loft net


for your home : in door and outdoor house net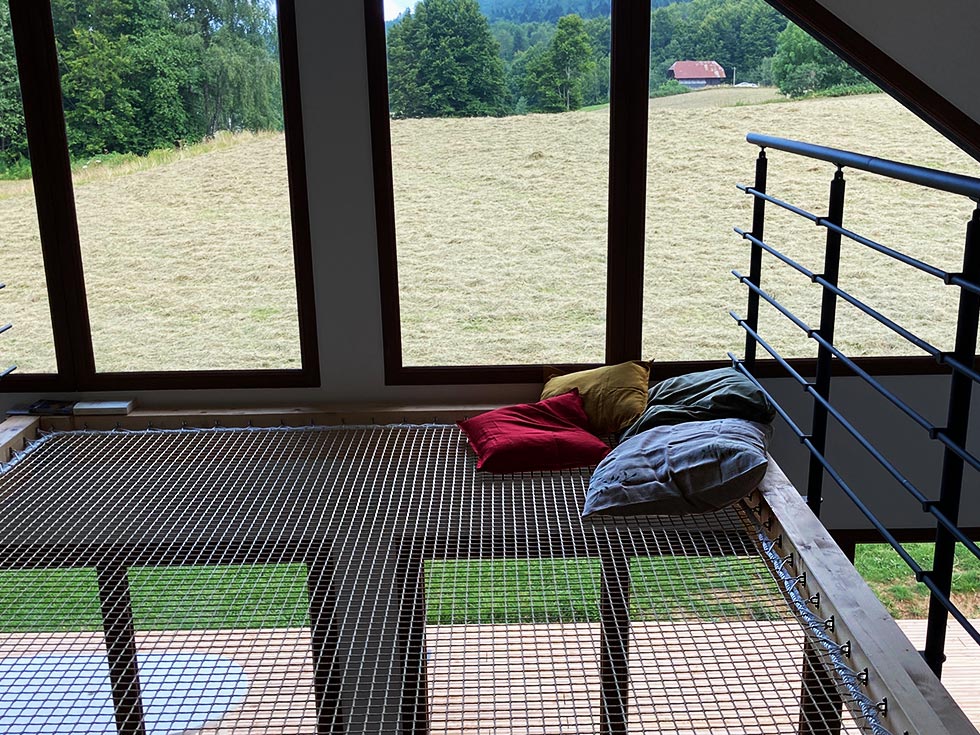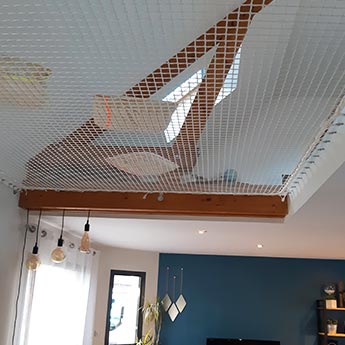 Decorating and installation ideas with photos from our customers.
Projects of mezzanine nets, railings and decoration for the house and the garden.
Made from a catamaran net, the house net allows you to decorate interior or exterior spaces with an original design that combines comfort and safety.
Personalized net

for your home
From the sea to our interiors, an original decoration
The catamaran net that was originally used on multihull sailboats is now used in your house to create a personalized, aesthetic and original decoration.
Whether it is to be used indoors or outdoors, the loft net from Corderie Gautier is a high quality product that guarantees you comfort and safety.
Specialists in the design of house nets, we design your project with you, according to your taste.
To fill a void in a loft, install a safety net, create a playing area for children or a suspended relaxation space in the garden: imagine your layout!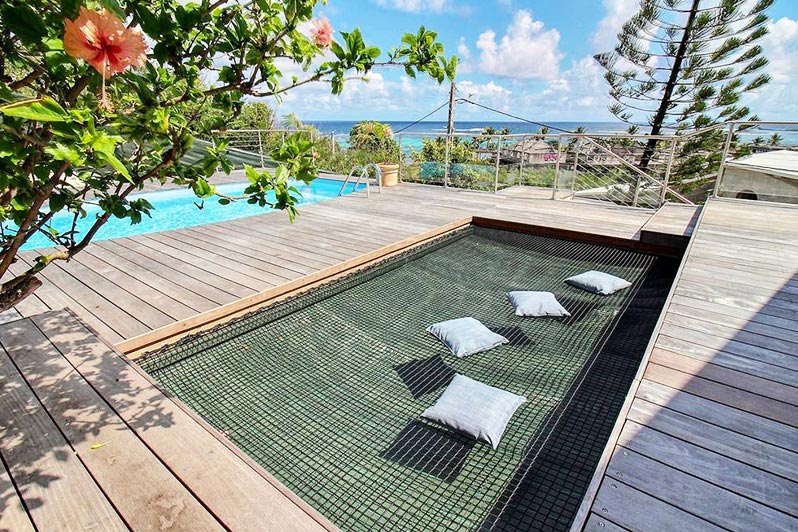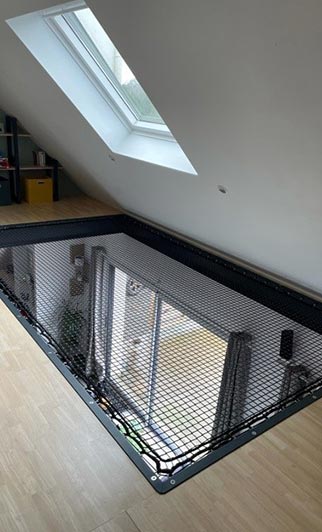 A cocooning and decorarive corner
Installed horizontally, suspended in a house or a loft, it is used to fill an empty space while allowing natural light to pass through. A real suspended and openwork floor, the loft net is very resistant and comfortable.
Made of 13 – 30 mm small knotless woven mesh, it is ideal for adults and children alike. The knotless mesh is comfortable and pleasant to the touch, with no pressure points for the skin.
The loft nets from Corderie Gautier are very firm and stable: they do not become saggy,  do not loosen or deform under weight.
In the house, it can be used to create a space to relax, perfect for reading or for a good nap.
To satisfy all your desires, it is highly customizable: specific shape (square, round, hexagonal etc) and customizable colors.
Indoors, the net is more protected from UV rays and from bad weather, which offers more possibilities to use different shades.

High resistance
with 700 KG / m2

High safety through
point by point fixation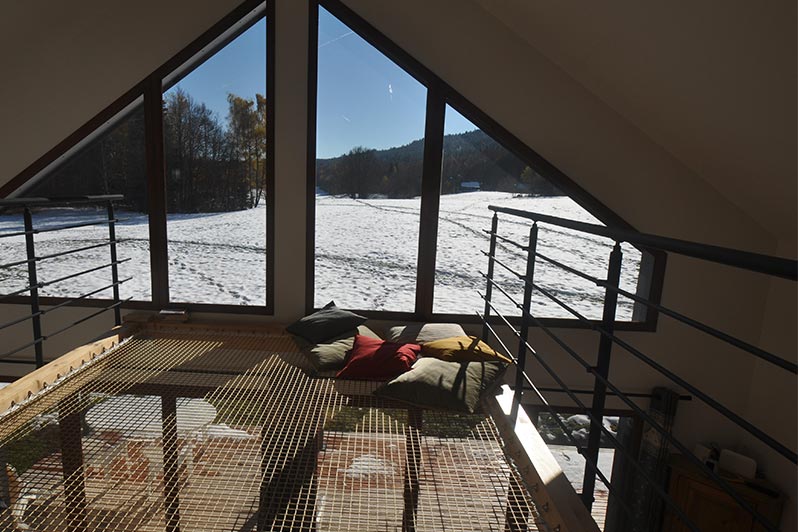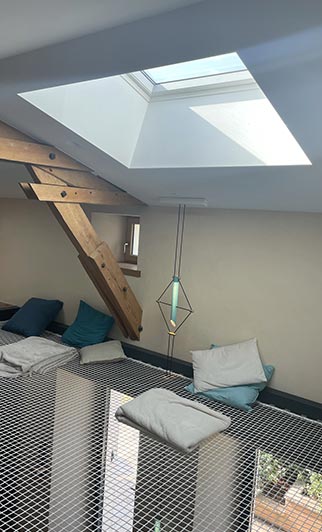 Staircase and mezzanine protection
Secure a staircase, a loft, a balcony or a terrace.
Installed vertically, the house net is an excellent protection against falls to protect your family and pets.
Very resistant and fabricated with 13, 30, 50 or 70 mm mesh, it can hold back an adult's fall. The guardrail net allows you to protect spaces  at height while letting the light pass through and by giving a decorative touch. It is also an excellent alternative to stainless steel or aluminum railings.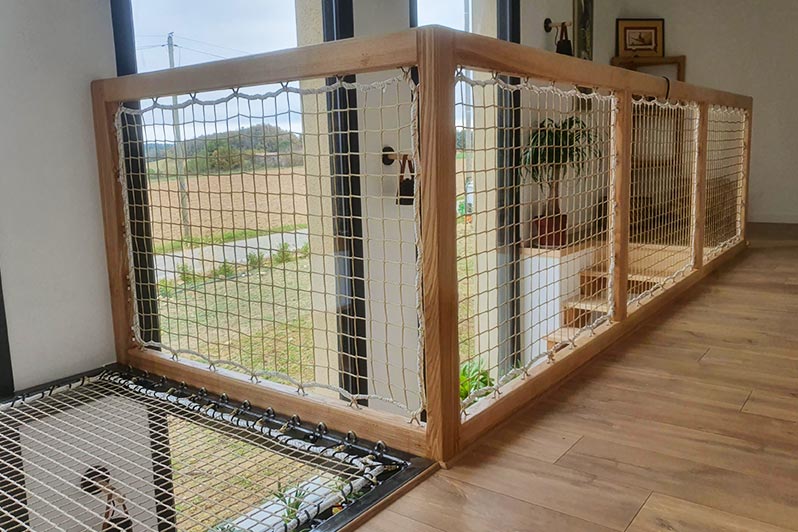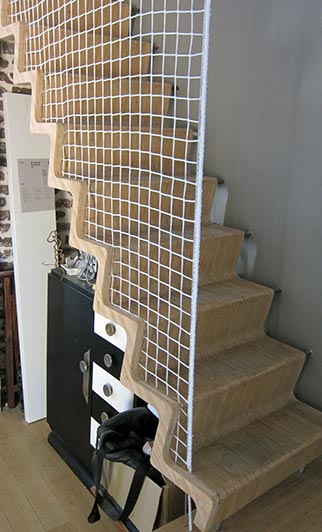 Create a suspended terrace in the garden, a relaxation area by the pool or above the water by the sea.
Put a safety net on your balcony or a terrace to protect people or pets from falling.
For children, imagine a tree house with a net floor and railing.
The catamaran net is resistant to UV, waterproof and is rot proof. It was originally designed to withstand long sea crossings on a sailboat, including regattas.
In your garden this outdoor net will be a really beautiful, original and safe item to decorate it.
Easy to maintain, it will last several years.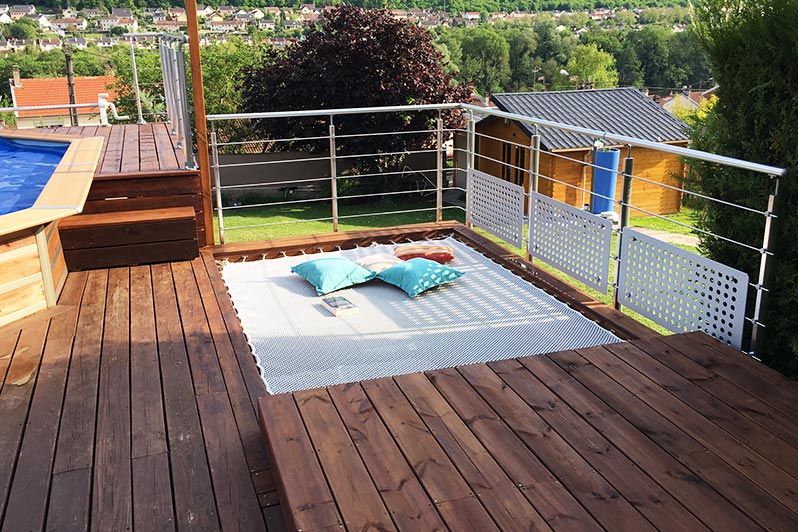 Made in France

of high quality
Our nets are made in France and are completely made to measure.
Over the years, we have developed our technical expertise to provide our customers with a reliable, durable and safe product.
Properly installed, a loft net from Corderie Gautier remains perfectly firm and stable for several years.
Our nets have been subjected to technical tests by an accredited and independent control entity which certifies that our nets can withstand up to +700 kg/m2.
This certificate is delivered to our customers.

For individuals

and professionals
Install an indoor or outdoor net in your home, or in a loft to create a relaxation space and a personalized and atypical decoration.
We also work with professionals for high-end design solutions : hotels, lodges, bed & breakfasts, architects, interior decorators etc.
Our team will accompany you with your project from A to Z. Worldwide delivery at home or on a construction site.